WICK SEAFARER`S MEMORIAL GROUP – BLACK SATURDAY ANNIVERSARY
July 25 2019
Dear Harbour User
WICK SEAFARER`S MEMORIAL GROUP – BLACK SATURDAY ANNIVERSARY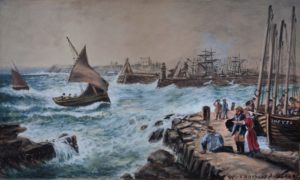 On behalf of the Seafarer`s Memorial Group I extend a warm invitation to you to take part in a short service of remembrance on Sunday 18 August 2019 to mark the anniversary of Black Saturday. This will involve a short wreath laying service in Wick Bay following a 2 minutes silence. All vessels are invited to take part in the flotilla which will depart Wick Harbour led by Wick Lifeboat and the Isabella Fortuna.
By 1848 in Wick numbers of both boats and men had increased significantly . Some 800 vessels were operating in the area, supported by approx. 3500 fishermen. On the afternoon of Friday 18 August, most of the Wick fleet set sail for the fishing grounds. All was calm but by midnight a deadly storm was approaching the fleet. Some boats "ran for home" managing to successfully shelter from the storm. Unfortunately, others were not so lucky as the tide had fallen by the time they arrived in Wick Bay early Saturday morning. As they attempted to navigate the harbour entrance, many boats were thrown onto the rocks and piers due to the ferocity of the storm combined with the low tide. Official records state that 37 lives were lost.
The event became known as "Black Saturday". Following this tragedy, an enquiry was held and this led to many safety changes including a deeper harbour, partly decked boats, a barometer in every Scottish port and the River Harbour developed.
It would be helpful if you could contact the Harbour Office by email office@wickharbour.co.uk or by telephone 01955 602030 to confirm your attendance so we have an idea of numbers of vessels taking part. Further details and timings will be distributed nearer to the time once vessels numbers are known.
Yours sincerely
MALCOLM BREMNER                                       IAN CORMACK
HARBOURMASTER                                            DEPUTE HARBOURMASTER