Scottish Highlands & Islands Renewable Energy Awards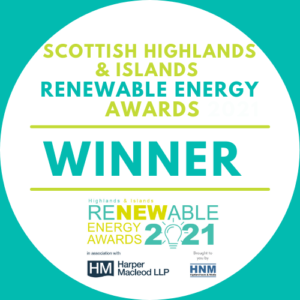 The team at Wick Harbour Authority are absolutely thrilled to have won the Best Offshore Energy Project Award at last nights Highlands & Islands Renewable Energy Awards 2021, which for the first time, was held virtually due to the present Covid19 restrictions.
The positive impact the Beatrice Offshore Wind Farm Development has had here at Wick and throughout the wider Caithness economy cannot be underestimated and it has been the catalyst for a number of new businesses locally now operating in support of the offshore renewables industry.
The board worked tirelessly over a number of years to help bring the BOWL project to the town – this involved engagement with harbour stakeholders, the local community, councillors and so importantly building good working relationships with the operators, SSE and their sub-contractors.
Far from standing still, the Harbour Authority have exciting plans to rejuvenate the Outer Harbour. The catalyst for this would be the installation of a High-Water protection Gate, which would enable vessels to utilise the Outer Harbour berthing facilities on an all-year basis, even in the strongest of South east gales, which presently constrains use of this part of the harbour during Winter months.  This scheme has been fully designed and approved as suitable for purpose and is currently with funding agencies for consideration and approval.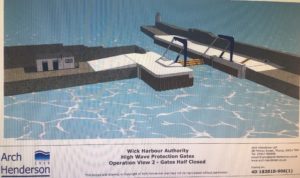 It is an exciting time here in the north as the offshore renewables industry is going to be a significant employer throughout the Highlands & Islands as the country moves towards the ambition of being NET Zero by 2045.
Wick Harbour and more widely Caithness, remains very well placed geographically, due to its proximity to the developing and scoped sites. In addition, Caithness has an excellent supply chain and importantly the skills and services which operators and developers seek when selecting ports for Operations and Maintenance bases Already, Wick Harbour Authority are receiving a number of enquiries about the next round of offshore wind leasing sites, and how we may be able to facilitate their potential operations. The future for Caithness and in particular Wick Harbour is bright, with the potential for many local jobs being created in this fast-growing industry