We are delighted that the final turbine was successfully installed out at the Beatrice Offshore Windfarm on 14 May 2019.  The windfarm on our doorstep is the 4th largest in the world .  Onshore construction began in May 2016 and offshore construction began in April 2017. The first wind turbine  and first power was exported in July 2018.   Beatrice will be fully operational in summer 2019 generating enough green energy to power 450,000 homes.
We have seen increased harbour cargo traffic over the spring period with various vessels delivering pipe cargo, fuel, towheads for Subsea 7 and other oil related cargo.   Subsea 7 transported the towheads to Wick by boat as opposed to barge.  The discharge operation and subsequent transportation of the towheads to the Wester Site was very successful.  One of the largest cranes in the UK was deployed to undertake the heavy lift. It made an impressive sight on the North River Pier. Looking ahead we are due to receive 4 shipments of large diameter pipes for a Subsea 7 contract. Enquiries have been coming in about future log exports for later in the year and there will be further towhead shipments towards the end of the year.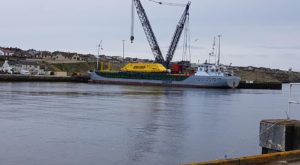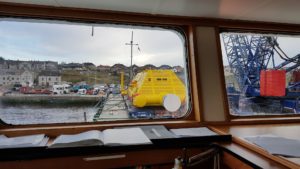 Our fleet of small boat users were successfully lifted in at the beginning of the month.  It is great to once again see them back in the water – brightening  up the harbour area. The visiting yacht season has started.  So far we have already welcomed yachts from  various parts of the UK, France, Germany, Holland, Poland, Sweden, Norway, Spain and Ireland.  A recent visitor was the Williams II – making her inaugural round Britain trip.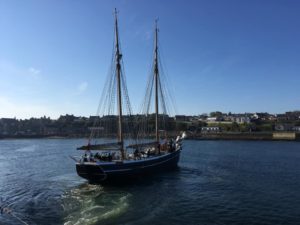 Almost 200 years ago Antarctica was discovered from a ship built in the small North East town of Blyth, Northumberland.
The Williams was built and owned by a Captain William Smith a man born and raised in Blyth. On the anniversary of this British achievement in 2019 it is The Williams Expedition aim to build a modern replica of the Williams in Blyth to recreate the original expedition with a local crew.
The expedition aims to showcase the North Easts talent, engineering and technology on a world stage and in conjunction with Newcastle University undertake meaningful marine science. The Williams II  is a 36m gaffed riffed ketch, which was built of oak with pine decking and masts in 1914 in Denmark and at 24m on deck, with a 2.7m draft she is almost exactly the same dimensions as the original Williams built 100 years earlier in Blyth. Their trip around the UK is a training and selection voyage for their bigger intended voyage around Cape Horn in 2020. She  was certainly an impressive sight making her way in and out of Wick bay.
New Aids to Navigation will be installed shortly.   The north cardinal mark ( locally know as the "Flaggie" )  has proved problematic at times of inclement weather . It is being replaced by a Port Lateral Mark which will be situated in deeper, less volatile water. This will hopefully ensure greater reliability during storm conditions.  The Port Closed Signal at the South Head will be replaced by new high intensity LED lights which will be visible on approach to the harbour.  These improvements will hopefully be completed within the next 6-8 weeks.
Prices for shellfish remain robust,  although as per usual for this time of year there is a general scarcity of crab/lobster.  Hopefully the catches will pick up as we enter the warmer  summer spell.
We are undertaking further improvements around the harbour area, replacing the metal kerbing and also the marina pontoon boards and electrical cables.  This work is ongoing and harbour staff have been busy on the marina these past few weeks making these changes. New energy efficient lighting is currently being installed in areas where commercial fishermen land.  These areas are presently unlit/poorly lit .  We are grateful to have received  grant assistance for part of this work from Highland Moray Flag.
Check out their website  www.highlandmorayflag.co.uk to find out more about Fisheries Local Action Group (FLAG)- led by local fishing and community representatives to provide funding support for sustainable development of fisheries areas.
Looking ahead , RNLI Wick Lifeboat Day will be held 15 June 2019.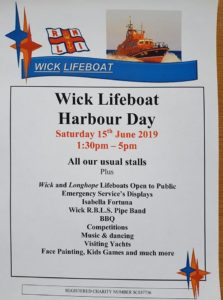 This is the main fundraiser for our local lifeboat . Come along and enjoy the event,  whilst helping to contribute to the RNLI.  Usual stalls, music, dancing and fun filled activities.  We  are expecting our usual visiting yachts from around the Moray Firth who make this a weekend trip as a flotilla every year .