Harbour News 15 August 2018
The Harbour has been very busy these past few weeks. During the month of July we welcomed 72 visiting yachts from Norway, Germany, France, Poland, Australia, Netherlands, Switzerland, Belgium, Finland, Sweden, Ireland and elsewhere within the UK. Below is the Yacht Santa Maria waving goodbye – she started her voyage in June back in the Canary Islands.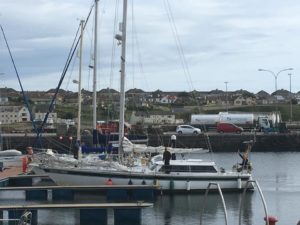 In most cases the yachts are usually staying a couple of nights, however it is encouraging to see a rise in people deciding to stay additional nights once they are here !
"As a visiting yachtsman sailing around Britain, I've yet to visit a friendlier, more helpful marina/harbour. The showers, toilets etc are great too …"
During the summer months 2 new small shellfish boats have arrived in port.  In addition to our usual local boats, a number of visiting fishing vessel have been using the port to consign their catches.  Here are recent images of some of our local fishing boats taken by Leon Gray – thanks for these images.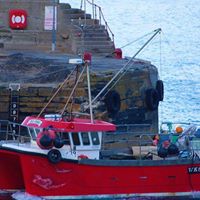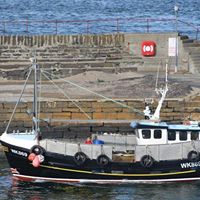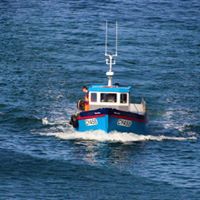 We are pleased to report that dredging operations which commenced in May are now complete.  Wyre Marine Services vessel Admiral Day dredged the outer harbour entrance, the sand bar and navigation channel.  Malcolm Bremner Harbourmaster is very pleased with the dredge results which show the River Harbour channel now down to -4.6m CD and the Inner Harbour entrance -2.5m CD.
Cargo vessel Eems River delivered a consignment of onshore wind turbine components on 31 July 2018.  This shipment is the first of 4/5 expected over the next couple of months.  The tanker Antares has also been in with a  delivery of fuel.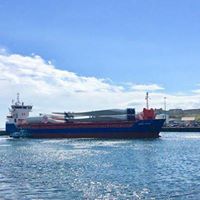 A number of new Crew Transfer Vessels have arrived in port to support the ongoing Beatrice construction works.  We welcome the new boats Dalby Tees, Seacat Resolute, Seacat Mischief and Green Quest to the harbour.  The Wick Harbour CTV fleet comprises at present : Rix Lion, Rix Panther, Rix Cheetah, Seacat Intrepid, Seacat Resolute, Seacat Mischief,  Dalby Aire, Dalby Ribble, Dalby Tees, Marineco Mariah, Offshore Waddenzee,  Fob Swath 3 and Green Quest.